Zurich City Festival
Diese Seite in Deutsch anzeigen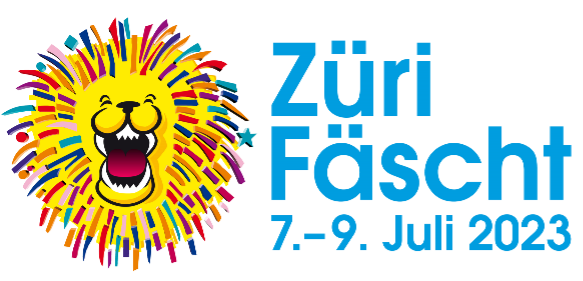 We'll be back between July 3rd - 5th 2026
Züri Fäscht Dragon Boat Race
Please find all impressions about the dragon boat race in our gallery.
Results:
Event Info
Switzerland's most significant city festival, the "Züri Fäscht", with over 2.5 million visitors, has its own dragon boat race!
Dragon boating - a sport that originated in Asia and is practised there by millions of people, also inspires us! Everybody is heartily welcome!
Everyone is allowed to start, whether as a fun team (clubs, fun teams of any kind, companies) without previous experience or as a sports team (dragonboat, canoe and rowing clubs). Form a team of friends, acquaintances, relatives, colleagues and sign up for this unique experience.
All fun teams start only on Saturday in a standard boat with a maximum of 20 paddlers in the categories Mixed, Open or Women. For the Funteams a training in the week before the race is obligatory and will be defined after the registration.
All sport teams will start on Saturday in the standard boat and on Sunday in the small boat categories.
Date:
July 8th - 9th, 2023 (Registration deadline July 1st, 2023)
Location:
Zurich, on the Limmat (Rudolf-Brun-Brücke towards Bahnhofbrücke)
Course:
250 meters downstream (heat time approx. 45s),
3 lanes (each approx. 10 m wide)

Start / Finish:
A Rope around bridge pillar for helmspersons,
electronic timekeeping with finishing video

Race mode:
At least 3 heats for all teams, afterwards half-final, small final and final. Depending on the number of registrations.
Registration fee:
CHF 300 for one day, CHF 500 for both days
Program
Saturday:
Standard Boat Mixed : (min. 8 pers. and max. 10 pers. per gender)
Standard Boat Open
Standard Boat Woman
Standard Boat Junior
Sunday:
Smallboat Mixed : (min. 4 pers. and max. 5 pers. per gender)
Smallboat Open
Smallboat Women
Smallboat Juniors
Smallboat Züri Fäscht Special
In case of too few registrations, we reserve the right to let the race classes start together.
Details
Boats:
Standard: BUK Standard 10-bench, Smallboote: BUK and Champions Standard 5-bench
Training:
Free practice on Friday on the track between 14:00 and 18:00 is possible for international teams.
Practice for Fun Teams in the previous week in Greifensee is mandatory. Possible slots are Monday (July 3rd), Tuesday (July 4th), and Wednesday (July 5th), either at 6 pm, 7 pm or 8 pm. Practice can be booked after registering for the race.
Team tent:
It has a marquee with tables for all paddlers.
Regulations:
Unless otherwise defined by the organizer, the official IDBF rules apply. In addition, the start must be made with paddles out of the water.
Food & beverages:
Food is available at the many food stands of the Züri Fäschtes, or you can bring your own food and eat it in our festival tent. True to the motto: buy local or bring your own!
Organizers:
Dragonboatevents.ch GmbH & Greifensee Dragons
Accommodation
Ibis Zürich City West⭐️⭐️⭐️
Schiffbaustrasse 11
8005 Zürich
Rooms:
Single room: CHF 168 per room per night
Double room: CHF 187 per room per night
Tripple room: CHF 226 per room per night
Board:
Breakfast included
City Tax:
CHF 2.50 additional per night per person
Youth Hostel Wetzikon
Rapperswilerstrasse 63
8620 Wetzikon
Rooms:
Four-bedroom: CHF 32 per person per night
Double room: CHF 42 CHF per person per night
Room equipment:
A wash basin is available in the room, a shower and WC are available on the ground floor, and linen is available. Bring your towels.
Food & beverages:
No possibility in the house. Within walking distance are a bakery and various stores.
Transport
Zurich Card:
Free travel on all public transport (streetcar, bus, train, boat and cable car) in the city of Zurich and the surrounding area. Further discounts for museums etc.
Prices: 24 hours CHF 27, 72 hours CHF 53
Benefits Zurich Card | Buy online
Sponsors
About Züri Fäscht
Every three years, dragon boats race for glory on the Limmat in the heart of Zurich, surrounded by a massive crowd of spectators. The race leads downstream towards the Central Bridge from the Rudolph Brun Bridge. These sprint races are a big attraction at Switzerland's biggest city festival. Get on boat and participate in the Zurich City Festival Züri Fäscht Dragon Boat Race.